Your trade show displays are versatile examples of marketing and branding tools that can do a lot more than reel in the foot traffic at an expo. They are ideal as corporate event signage for Atlanta venues, too. What are your options?
Pop-up Displays Welcome Attendees with Your Logo and Company Name
The pop-up display is a must-have for any trade show. Curved displays are one of the hottest trends. They present your business to visitors at a trade show in a visual collage that consists of your company information and colors. Since they take up about eight feet to ten feet of floor space, they make ideal welcome signs for the lobbies of hotels, convention centers and other locations where corporate events take place.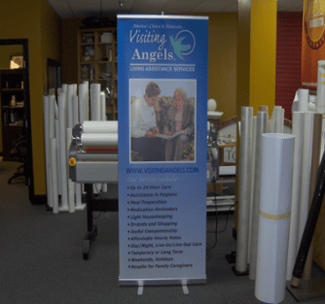 The tabletop versions of this full-size setup are useful when holding your event on multiple floors of a venue. Greet attendees with your familiar logo and highlight the information center you have set up for them on the floor. First-time visitors to the location will find that this is an excellent way to signal that they have come to the right place. Since sometimes multiple events are happening at a larger meeting space, this is an invaluable tool to brand your business while adding functionality to the process.
Retractable Banner Stands Inform, Direct, and Brand
The retractable banner stand is a ubiquitous sight in expo halls. Use the same displays you chose for the last trade show to give attendees more information about the company. When you elect to customize the banner portion itself for the event, add venue-specific directions for those visiting. Information may include room selections, speaker bios and a schedule of events. Throughout the day, the display of your company's identifying message consistently brands the business.
Why Should You Use Trade Show Displays for Corporate Events in Atlanta?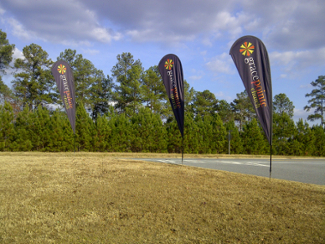 Aside from the fact that it makes financial sense to re-use your trade show signage whenever possible, also consider that your event's attendees are visiting a venue that most likely displays plenty of its own marketing and branding messages. Hotels and convention centers are famous for allowing you to show off your company's name and logo that the venue's larger and more colorful branding imagery then overshadows.
Stand out in your own right by bringing your trade show materials to the mix. You have already spent plenty of time agonizing over the proper display of the branding and marketing messages. As a result, they fit right in as corporate event signage, too. Minimize other ads and allow your guests to focus on what you want them to take in. When you host investors as well as potential clients, this is an important approach. In addition to the pop-up displays and retractable banner stands, remember also to bring customized table throws and hanging signage to the event.
If you need a bit of assistance to make the move from using your trade shop materials for the next corporate event, contact the experts at Signs & More for assistance. We work with you to make good use of the signage products that you already have. If needed, our graphic artists can make some modifications that will allow you to present these signs with a particular theme. Contact us today to learn more.