Am I In The Right Office?
Is this the question your customers ask when visiting your place of business? Does your lobby or reception area signify your business in a proper manner? As your customer enters your place of business the lobby should indicate your brand, your identity, your persona, YOUR LOGO.
There are many ways to get your brand noticed and reinforced in your lobby or reception area. The most effective Lobby Sign should be behind your receptionist. There is usually a blank wall behind the receptionist's desk. This is a perfect area to display your logo.
Reception Area - 1/2" PVC Logo Letters w/1/2" Standoff from Wall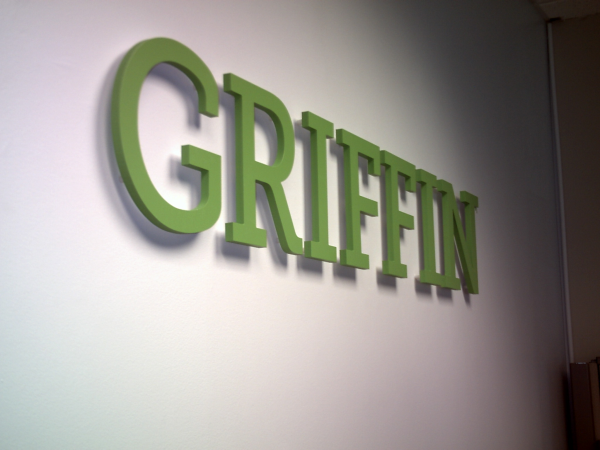 Let's look at the different wall messages.
The method we recommend is the use of painted ½" thick PVC letters held ½" off the wall with spacers. This gives a nice 3-D look with shadows behind the letters and allows usage of our customers' PMS colors.
To create a more formal look, we recommend brushed metal applied to the front of the ½" PVC. We can use contrasting colors (e.g. brushed silver and brushed gold) to contrast different colors in your logo.
Lobby Sign - Brushed Silver & Gold Dimensional Logo
An effective way to create dimensions to flat lettering or designs, needed by very intricate logos, is to place the flat lettering or design on clear acrylic and use stand offs, pulling the design away from the wall. The stand offs are usually 1" long by 1" diameter spacers behind the clear acrylic with matching caps on the exterior of the acrylic. This method can incorporate many styles and art for your reception area. PMS colored or metallic vinyl can be used for this application.
Reception Sign - Brushed Gold Vinyl on Clear Acrylic w/Standoffs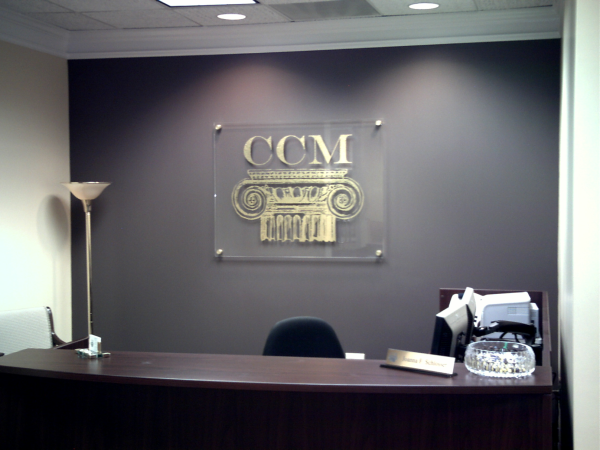 The most impressive look uses unique innovations combining all elements of sign design such as dimensional lettering, shapes, clear acrylic and cut vinyl. The simplest and cheapest is to use cut vinyl as letters or shapes directly on the wall; however, this is also the least impressive.
There is no limit to where your imagination can take you. Let our design department help you create the lobby sign that is UNIQUELY YOU & More.