REASON 2 - YOUR BRAND WILL STAND OUT
Lobby Signs/Reception Signs are an important part of the branding of a company. Certainly there are other areas that promote the brand, such as, advertising, marketing materials, and exterior signage. However, the one thing that every visitor and employee sees when they walk into your business is your office lobby sign. Like the architecture and furniture, the logo lobby sign speaks volumes about your company. The look and feel of this sign set the tone for the customer meeting, the interview or just the day's work. It speaks to the quality of the organization, the attention to detail, the longevity of the organization, etc. Why do all large, impactful firms have large impactful lobby signs? They know how important it is to project a high end image.
Brushed Metal Letters on Etch Acrylic with Standoffs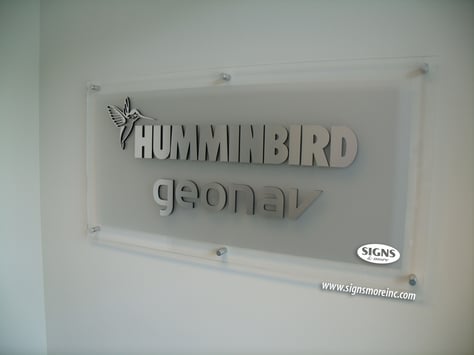 There are many ways to create a successful lobby sign. First and foremost, it must be true to your logo. You can choose to use your corporate PMS colors in the logo or go with another look completely, such as brushed aluminum or rusted metal. Your sign designer can help you with alternatives to your standard colors if you choose to go in that direction. Another option is size. Go big or go home holds true for most signs, but corporate lobby/reception signs have to be an appropriate size for the space available. Too large can overwhelm and appear gaudy; too small can cheapen your brand image. Then there is dimension. How thick do you want your letters to be? Thin letters flush mounted to the wall look like they were painted on. To gain dimension you can either make the letters thicker or stand them off the wall on metal posts called studs. Stud mounting on spacers is less expensive than making the letter thicker. It gives some shadow to the letters creating the perception that they are thicker than they are.
3D Letters Offset from Wall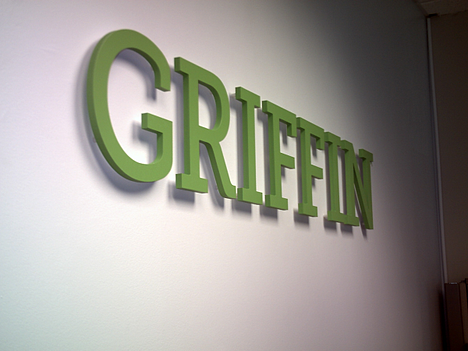 Thick letters will look more substantial. They are typically mounted flush to the wall without any space between the letter and the wall. Another choice is to mount the logo to a panel and mount the panel on the wall. Panels can be made of acrylic, metal, or virtually any flat, rigid material. The panels are mounted to the wall using metal standoffs. These standoffs anchor into the wall and have a barrel and cap that unscrew. You drill a small hole in the panel and the cap holds the panel to the barrel to the wall. These standoffs give the sign a nice finished look. Finally, you can have an illuminated lobby sign. These signs can be manufactured in a variety of ways and will definitely increase the impact of your lobby sign.
Intricate Logo - Metallic Gold Vinyl on Acrylic with Standoffs
Call Signs & More at 770-383-8808 and we will help you make your logo/brand stand out.