If you need to quickly change a sign, Toaster Cover or Pillowcase Banners might be the solution for you. Signs & More will determine the best way to cover a large or small sign with a banner that will cover both sides of a double-sided sign. These can be up for a long time or go up and down every weekend. They can also be made of translucent material for backlighting.
When MembersFirst Credit Union bought a new building and wanted to let people know that they were coming to this site and when they would open. The sign had another logo on it, so it had to change. And MembersFirst did not want to have to place a coming soon sign up for months and replace it with their permanent signs. The Toaster Cover Banner was the perfect solution!
Toaster Cover Coming Soon Banner - Replaced Later with Permanent Sign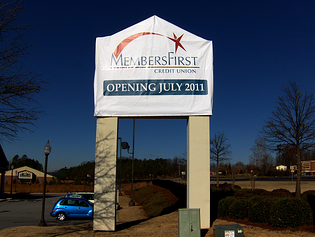 Casteel Heating and Cooling had a lighted sign that they inherited when they moved to a new site. They wanted an economical way to use the internal lighting and place their info on the sign. Signs & More made a Translucent Toaster Cover Banner to place over the sign. The existing faces were removed and they were up and running, at a fraction of the cost of new acrylic pan faces.
Monument Sign Renamed with Translucent (lights up at night) Toaster Cover - Installed in Jan, 2010 & still looking good!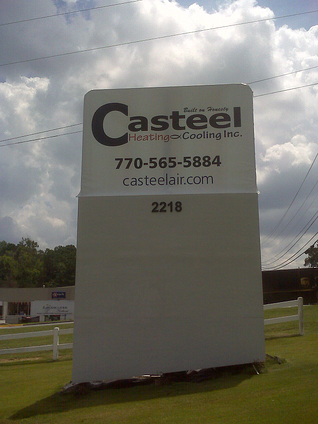 Gracepointe Church meets in a school. The school has permanent signs out front. So a Pillowcase Banner was made to fit over the existing sign. They put it up and take it down every weekend to let people know where they are and when they meet. This is much easier than having to put out a frame and sign each week.
Church Places Pillowcase Banner over School Sign on weekends only to announce Services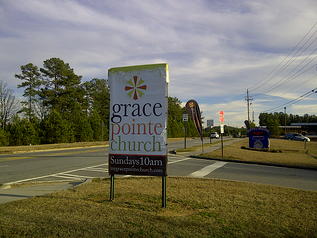 Call Signs & More (770-383-8808) today to see if a Toaster Cover or Pillowcase Banner is right for you!