To Wrap Or Not To Wrap - That's A Silly Question
Let's look at the reasons someone would not want to wrap their commercial vehicle. Umm, ahh, hum. Nope, I cannot think of one good reason not to wrap your vehicle. When you consider other forms of advertising, WRAPS WIN on every account.
Newspapers: $1300 /wk. 2" x2" ad. Have a good local market exposure but are short lived and poor reproduction quality.
Television: $200000 / 30 sec. Great mass market yet is extremely expensive for the return on investment.
Direct mail: $1500 / 1000 4" x 6" postcard. High pinpoint market exposure and allows personification. Has "Junk Mail" image
Radio: $90 - $12 / week. Highly geographic, demographic and selective, but is audio only and low attention notice.
Magazines: $1200 - $5000 / month. Provides prestige and credibility with long shelf life. Is expensive with no guarantee of position.
Billboards: $4000 - $500000 / 16 weeks. depending on demographic exposure. High repeat exposure, no competition. Limited audience selectivity, limited creativity.
Online: $.60 - $10 / click or $1200 - $5000 / month. (Does not include search engine optimization) Low cost, immediate, and interactive. Small demographically diverse audience, low impact, and audience controls exposure.
Note: prices reflected are negotiated prices for a 12 week campaign (Information provided by Inland Empire Small Business Development Center)
Message on Car Wrap is easier to see than Message on Shirt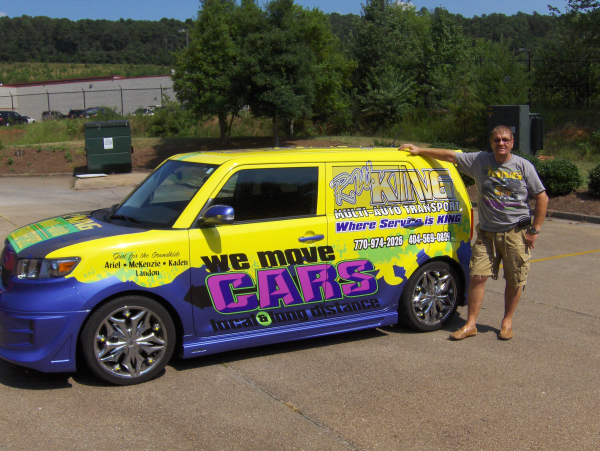 Vehicle wraps are rolling billboards – WORKING 24/7. They cannot be denied access as some installed signs may encounter (they are the last no-permit-required outside business signs). They are eye-popping and can employ great imagination. The cost ($2000 - $5000) is minimal considering the constant exposure the vehicle provides.
Bring us your "Rolling Billboard" and let us get your message ON THE ROAD.
CiCi's Pizza Delivery SUV Wrap