While it may be easy to slight the slick white plastic material and brass-colored corner grommets, a typical banner can be so much more nowadays thanks to the new wave of digital printing.
In recent months, we have learned that quality is playing as big a part in the world of banners as the economy has. The newer digital printers are creating outstanding digital output that is now consistent with the term "vinyl banner". Maybe we should call these new banners "fabric signage," "tensioned fabric signs," or "frameless fabric" instead? To Signs & More, "digital banner" is the term we use to show that banners are being "recreated" for the current time.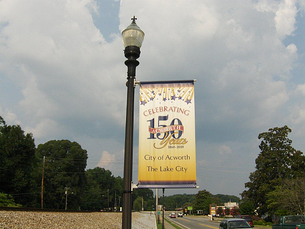 Banners can provide vast images that create more interesting possibilities for textural and multi-color banners. Full-color is now the norm. The power of the digital printer brings out the best in digital banner design in regard to bleeds and patterns.
New Ownership Full-color Digital Banner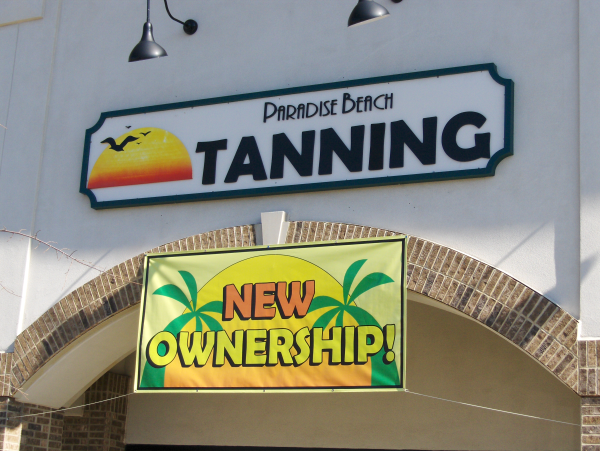 Take your basic logo and add some dynamic graphics beyond the original text and you have an eye-popping way to advertise your company or event. One can expand the simple banner design with additional shapes, add more color, or an image. Voila! You have an awesome and inexpensive form of advertising!
30' Full Color Printed Fence Banner - Whole Hawg Happenin'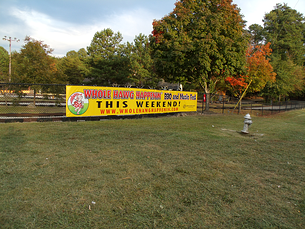 There is no longer a limitation on banner design – digital printing easily replicates the image on the computer screen!
Let Signs & More create your next banner for your business or event.