May 3, 2011
Bartow manufacturers receive awards
by Amanda Stegall
Following a week of events honoring manufacturers in Bartow County, the Cartersville-Bartow County Chamber of Commerce held its annual Manufacturers Appreciation Week Awards Breakfast Friday.

Each year the chamber distributes five awards to companies who excel beyond expectations in helping the community in certain aspects such as environmental protection and recycling as well as expansion and community service acts. Bartow currently is home to over 130 manufacturers that contribute 9,000 jobs and have a payroll of over $308 million.

This year's Large Employer Expanding Industry award was received by TI Automotive, which has been in Bartow since 1985 and has added over 70 jobs in recent past years.

Since opening its doors in 2007, Signs & More Inc. has been involved in serving the community. In 2010, the company gave over $27,000 worth of products and services to local school systems, charities and churches, which designates them as the recipient of the Community Service Small Employer award.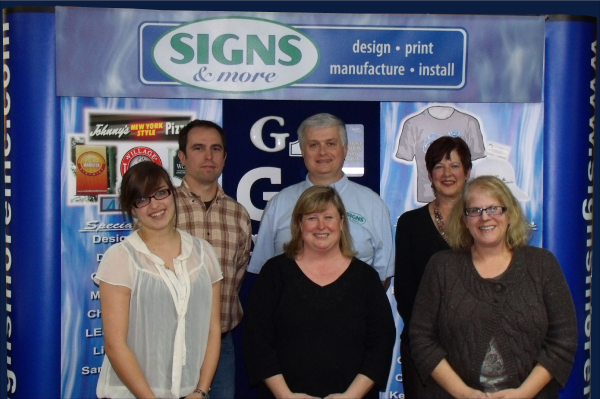 Krystall, Richard, Jane, Bill, Diane & Shari - The Signs & More Team
The Community Service Large Employer award was received by Georgia Power, Plant Bowen, which has manufactured power in Bartow since 1971 and is involved in Advocates, Keep Bartow Beautiful, March of Dimes, and providing donations when needed for various community services.

This year's Green Small business, EES Inc., has been in business for 20 years, offering a green alternative chemical based insect repellent and is the only all-natural insect repellent made in the U.S. Working to help the community while conserving water and setting an example for recycling, Anheuser-Busch won the Green Large Business award.

Chattahoochee Technical College also presented an award to Applied Thermoplastic Resources for their choice of a company for Georgia's Manufacturer of the Year.

In closing, Joe Frank Harris Jr. expressed gratitude on behalf of the county, telling participating businesses "you're one of us and we're so proud for you."