The kind of apartment signage Marietta, GA, management companies prefer varies widely by the size of the property and the atmosphere of the setting. What works for a small apartment or cottage setup does not necessarily translate well to a multi-story luxury apartment high-rise. What are your options?
Informative Signs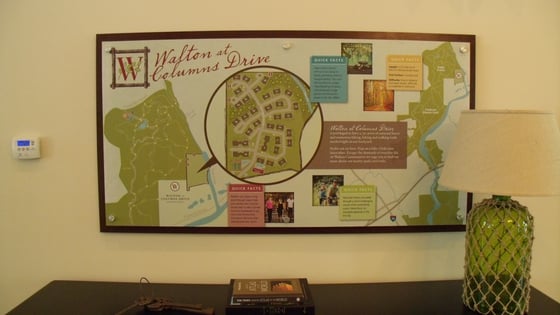 Posted in the lobby of smaller and more personable settings, these signage products explain a little bit about the property, its setting and its surroundings. This is the kind of signage you might find in a retirement community setting, a cottage manager's office or a similar venue. At the Walton at Columns Drive, it offers new residents quick information while it gives prospective tenants the opportunity to get a better feel for the property they are thinking of renting. Go as colorful and big as you like. Choose from a colorful aluminum panel that we can install flush to the wall, a beautifully imprinted poster or a wall mural.
Post and Panel Signs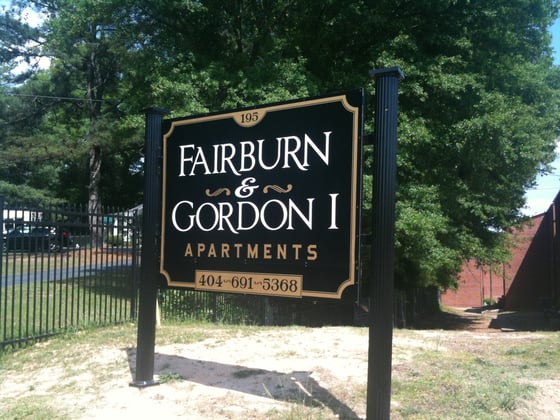 Taking the places of monument signs, post and panel markers highlight the name of the apartment complex. Adding a phone number is always a good idea. It allows interested tenants to contact the onsite manager for an appointment. If there is no onsite professional available, this number allows contact with the management company directly, which ensures that the caller receives quick and accurate information.
Monument Sign
There are times when a monument sign simply looks great. Case in point is Wellington Place. These apartment homes are dignified, elegant and bespeak class. The brick monument sign shows off a black panel with gold lettering. Integrated into the landscape, it becomes a visually pleasing focal point for motorists or pedestrians walking up to the property.
Combining this setup with a secondary sign that offers leasing office information further enhances the functionality of the monument. Chamberlayne Gardens has been very successful with this setup. The secondary sign is a wayfinding marker that assists future tenants with finding the onsite manager and getting more information about the apartments online.
Wayfinding Signage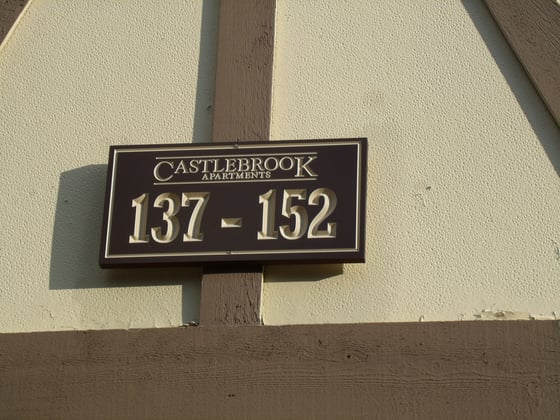 Functional signs for apartment complexes Marietta, GA, managers cannot do without include those that not only name the apartment complex but also inform visitors about the apartment numbers of a given building section. When there are separate walkways, this is a necessity to avoid time-consuming errors. For visitors and emergency personnel, these wayfinding markers are essential. Castlebrook Apartments enhanced the look of their properties with signage products that fit right into the building's style.
Choosing the Right Signage
Talk to the professionals at Signs & More for additional information on the best apartment signage packages that suit your property. Whether you intend to underscore the hip vibe of the locale like The Mark or prefer to quickly give necessary information like Donnelly Gardens Apartments, our experts work with you to find just the right look that suits your needs.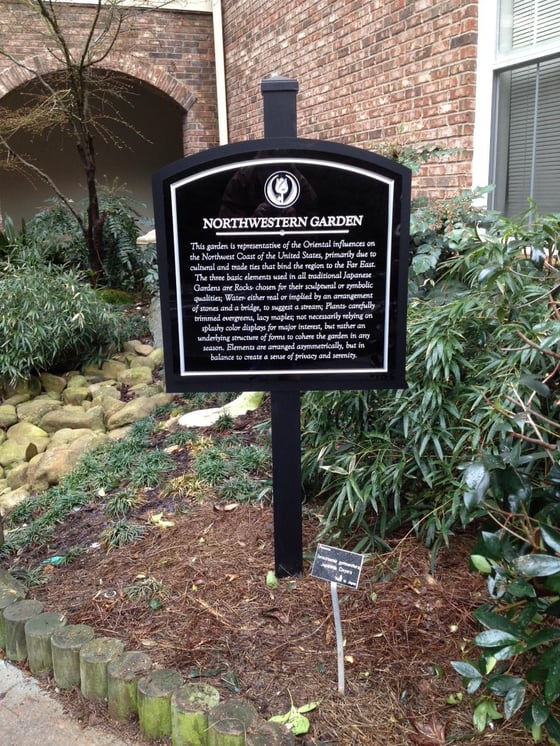 We can accommodate the artwork that you already have on file or create something brand new from scratch. Whether you need a monument sign, a post and panel setup or are thinking of adding a combination of interior and exterior signage options, our experts work with you from initial concept to final installation.