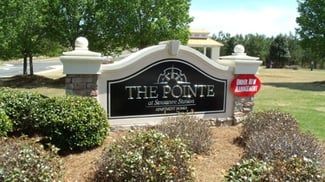 Did you know that there are six apartment community signs for Georgia property managers or owners that are vital in maintaining a happily filled status? Interestingly, they do not all advertise current or future vacancies. Do you know what they are?
1. Move-in Specials Signage
Typical signs advertising move-in specials come in the forms of vinyl banners. They may tie into a current season such as back-to-school or highlight a holiday. Coroplast signs mount to stakes for yard displays or may be attached to the interior of window panes with suction cups. Go for the gusto with tall Bowflags that are easy to secure to the ground with spikes.
2. Monument Sign
This product gives your property a classy look. It also enables drivers to change lanes safely before reaching the entrance to your parking lot. Choose from brick and mortar signage or opt for pre-fabricated foam products. For the face consider the display of dimensional letters or routed signage. Display the name of the commmunity as well as the leasing agent's phone number.
3. Directional Signage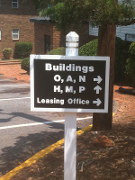 Make it easy for prospective tenants and current renters to find their way around the community. Routed PVC signs, as well as window graphics, identify the on-site leasing office, laundry facility and other amenities that residents may be seeking out. Consider the addition of a graffiti-proof coating to prevent any unsightly alterations. Post and panel signs look great in a parking lot; there, they help visitors find spots that are allocated to them.
4. Safety Signs
When you have amenities such as a children's playground, pool, dog-walking area, laundry room or barbecue grills, it makes sense to spell out usage rules. Educate tenants on the ways to use these facilities safely and in keeping with the management company's approval. Not only do you ensure the safety of those living in your apartment building, but you also make it clear that residents and their guests need to follow certain rules to make use of the structures suitable for all.
5. EVAC Maps/Complex Layout Map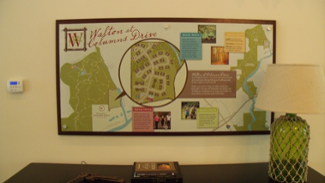 Safety of tenants and visitors is paramount. Help those in the apartment commmunity to find emergency exit routes with ease. Spell out where stairs are located, which exit doors to use in case of an evacuation and how to contact the leasing company for assistance. A layout map is an excellent selling tool to show prospective tenants where vacant apartments are located in relation to the entrance of the community. When there are multiple options, it allows these consumers to choose the location that they prefer.
6. Apartment Number Signs
Finding apartments with the help of numbers is a convenient way of giving directions. When you oversee a community with multiple buildings and stories, these numbers become necessities. Consider a uniform look with either acrylic or metal signs.
If we have inspired you to take an inventory of your current apartment signs for Georgia properties you own or manage, and if you have found that you are missing one or more signage solutions, contact us. We help you to get the signs you need.