Does your brand strategy include the design of your lobby signage? Industry insiders know that signs for reception areas in Georgia businesses can be instrumental in the way that a client or customer perceives a brand and distinguishes it from others. Some have called the branding process a promise. Although this is most certainly a valid consideration, we recognize that the reception sign goes beyond the promise. Indeed, it is a process of communication that leverages your logo's impression and lettering's font to define your company's approach to doing business.
Dimensional Letters Give You Command of the Space
How can you engage the customer in this type of communication with the signage components you select? When ordering dimensional letters, opt for metal, acrylic, PVC or foam products. They are among the most versatile displays because they allow for spacing adjustments, which are ideal when you seek to dominate a wall space visually (or an entire room). In addition to the height selection, you have a bit of a leeway with the spacing.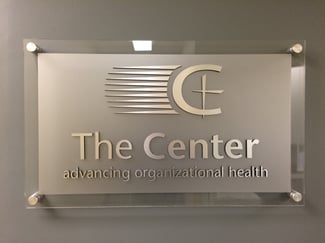 For the company that needs a dramatic display, foam is ideal. It allows for a three-dimensional look that creates an impressive presentation. With spotlights angled just right, add light and shadow play to the setup. If you prefer a glossy acrylic presentation instead, consider pairing this signage solution with vinyl wall graphics that you install behind the letters. This appearance adds an innovative out-of-the-box impression to your reception area, which tells the customer that you are a solution-oriented professional.
Board Signs Impress with Mounting Options
Usually, dimensional letters attach directly to the wall. When you opt for a logo panel instead, you have the option of installing the product with standoffs. For example, a clear acrylic board with a glossy border and the matte center display of a frosted vinyl backdrop looks great when you add metallic dimensional letters. Install it with brushed, aluminum standoffs for a presentation that makes the sign appear to float above the wall. To the customer, this signage type communicates a no-nonsense attitude that establishes you as a modern innovator who may be a thought leader in the niche you represent.
How to Order Signs for Reception Areas in Georgia
Contact the graphic artists at Signs & More to schedule a consultation appointment. During that time, we look at any artwork that you already have and make notes of the signage design that you have in mind. We would like to visit your office to take measurements of the wall that will display the product. Doing so allows us to give you input about size. It also provides us insight into the wall's makeup, which directly affects the installation options open to you.
Next, we create sketches that show you what the finished product will look like. This step creates an invaluable opportunity to see the lobby sign through the eyes of a client. When you are fully satisfied, we manufacture and install the product. At that time, we can also recommend secondary signage products that help with the branding of your business.