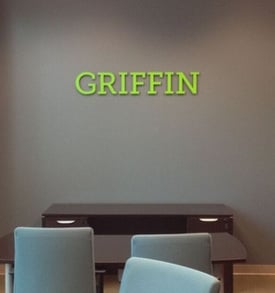 The last thing you want your lobby sign to do is simply blend in with the furniture of the foyer. When clients or customers visit your office, you want the marker to wow them, impress them and leave them more strongly connected to your branding message. Is it possible to achieve all of this with lobby signs? Atlanta business owners who have worked with the experts at Signs & More say "yes." Here is why.
Combining Colors and Textures
When we did work with Caldwell & Watson, we manufactured brushed bronze letters that are offset-mounted on the wall. You might think that there is nothing special about this setup – until you see the backdrop. The backdrop is a red wall with horizontal wood texturing.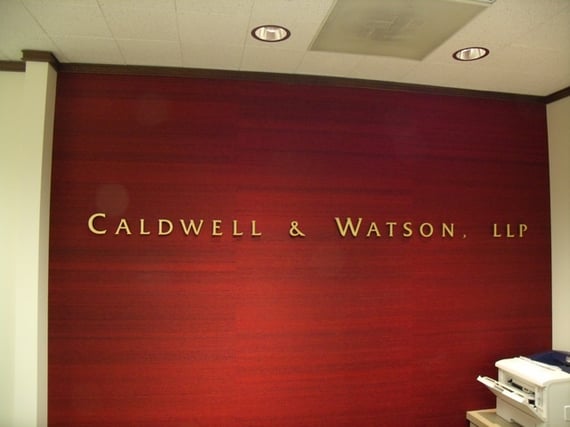 It is one of the most difficult substrates against which to install a signage component that pops. This calls for an approach that marries design simplicity to color perfection. The finished marker looks great, takes up the focal wall's allotted space and creates the type of signage experience that visitors will remember.
Using Offsets for Dramatic Effects
An offset mount allows us to install a sign so that it seems to hover slightly above the wall surface. Sometimes, it does not make sense to install a marker directly to the wall because of weight concerns. At other times, the offset mounting technique adds a dramatic effect to the look.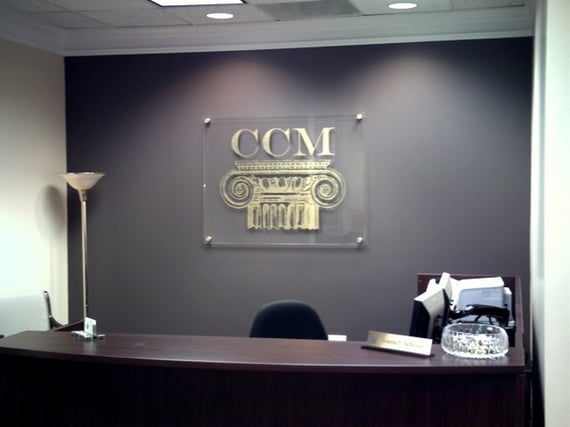 Case in point is CCM. A clear acrylic board is the sign's body. We added the company's lettering and symbol. By selecting brushed aluminum offsets to mount this see-through marker to the wall, we added visual interest to the look of the sign. Due to the use of spotlights, the wall's color undergoes a slight change from the top down. This installation method enhances this effect.
Playing with Light and Shadows
On the flip side, it is possible to create dramatic displays simply by mounting dimensional letters directly to a wall. When we manufactured Tangerine's sign, we created each signage component from flat-cut acrylic that we mounted to the painted wall surface. The same is true for the company's logo.
Yet when the light hits these components just right, you will notice the formation of some shadows while other areas are starkly illuminated. This combination of light and shadows brings artistic merit to the mounting location and greatly enhances the memorable display of the name.
Getting Started on Your Order Now
If you are inspired to consider an update to your reception area signs, Atlanta members of the business community know to contact our professionals. We work with you to discover the right materials that bespeak your branding message, fit into your foyer's decorating scheme but stand out sufficiently to make an impact on those visiting.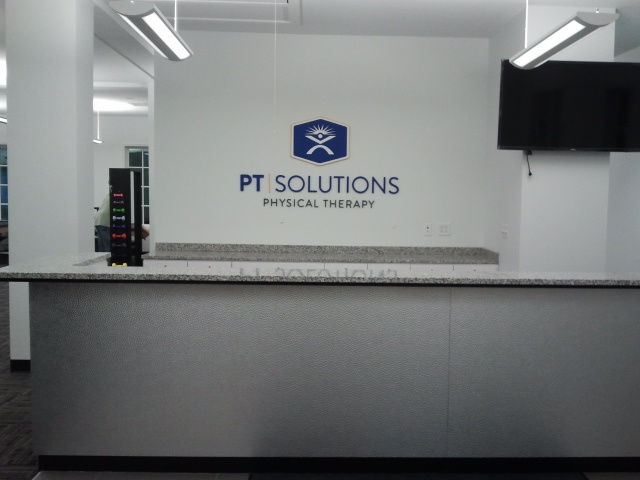 Generate name recognition and brand awareness with signs made from PVC, acrylic, foam, metal, glass or something else altogether. We gladly mix and match materials, discuss mounting options and provide input on the right height for a dramatic look. When you want something different that stands out, we gladly consult with you on the installation of whole-wall murals or wall graphics in lieu of traditional lobby signage. Call us today for more information.