Does your church need a new sign? Does it need an updated sign? Do you want to appeal to Millennials but have signage that is geared more toward early Gen X members? We can help with church signs for Cartersville, GA. Engaging your congregation, welcoming new worshippers and highlighting your relevance in today's world can be as simple as refurbishing or replacing a sign.
Rebuilding and Replacing Signage after Damage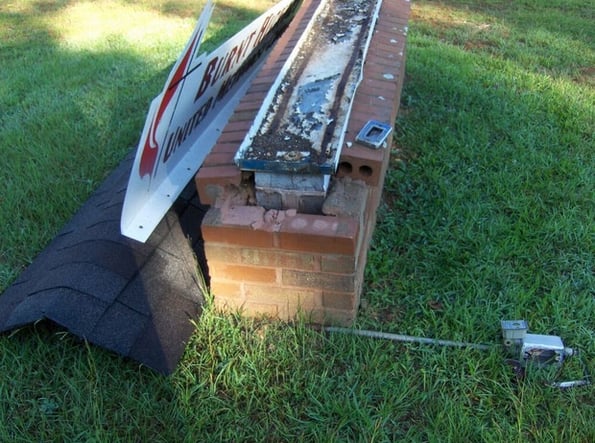 This monument sign was damaged after a car wreck
Restored to perfection!
If you are concerned that you cannot afford a new sign after the old one is destroyed due to an accident, we can help. Budget-friendly product solutions allow you to continue appealing to passersby and bringing in the next generation of faithful. Case in point is Burnt Hickory UMC. After a car crashed into the monument sign and destroyed it, members rebuilt the base consisting of bricks. We designed and manufactured a new, lighted box cabinet for the top. It is modern, features a sleek look and offers a four-line reader board for communicating with the community.
Enhancing the Modern Appeal of a Tried and True Congregation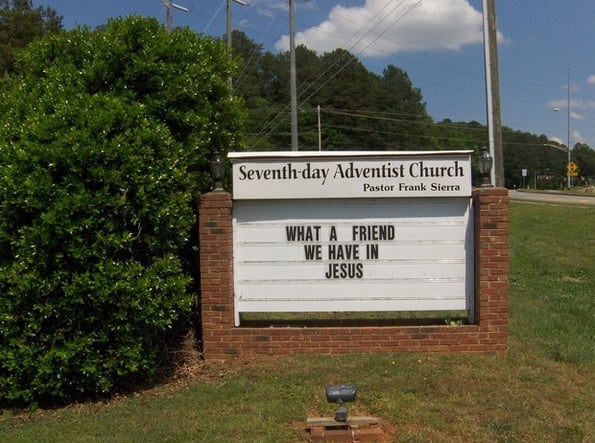 A great sign for the 7th Day Adventist...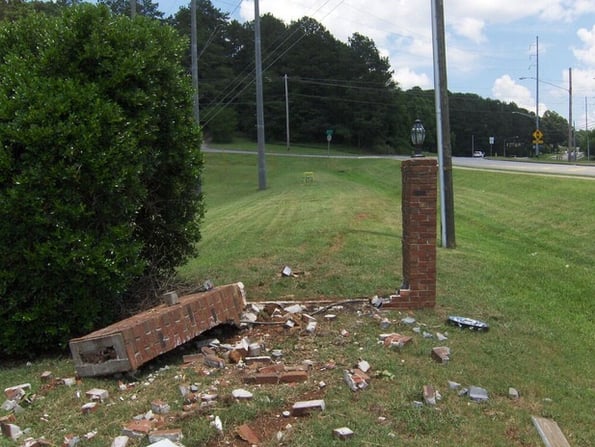 ...was destroyed when a truck hit it.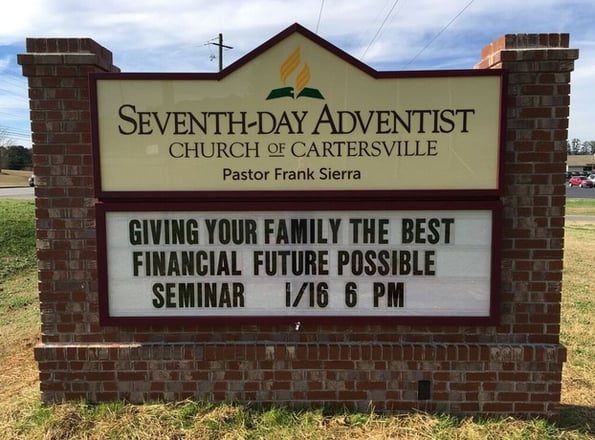 Restoration of the monument sign offered the opportunity for a new, fresh look!
The Cartersville 7th Day Adventist congregation had a similar problem. Its monument sign was damaged from an impact with a truck. When evaluating their options, members of the group realized that the sign was old and worn out, which did not match the modern building they used for worship. We designed and built a new monument from the ground up. It features a locking reader board and integrates perfectly into the landscape.
Renaming a Church to Reach the Community More Effectively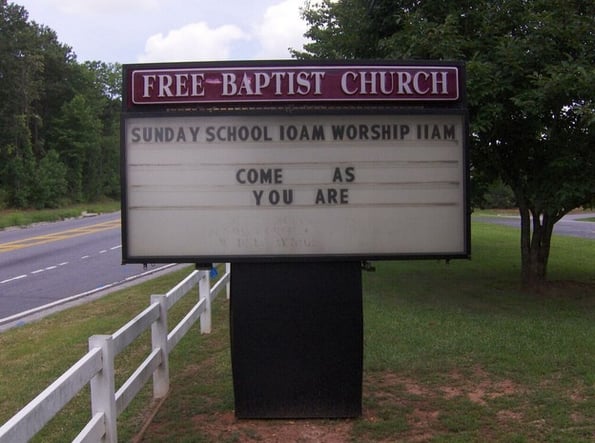 A name change for this church...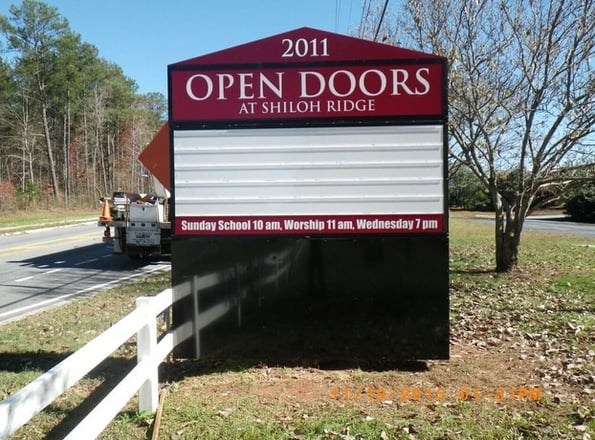 ...was the perfect time for a signage upgrade!
The leadership of the Free Baptist Church evaluated its outreach success and decided to enhance its ability to appeal to a broader range of possible congregants with a name change that more adequately embraces its mission. Now known as Open Doors, the church needed a sign that would reflect the name change. We researched local zoning requirements and learned that the old post setup was no longer acceptable. We remade the bottom of the sign to follow the rules of new ordinances and added a modern locking reader board to a box cabinet top. The look is contemporary and fits in with the church's mission.
Refurbishing Old Signs to Reflect Changes and Enhance a Contemporary Look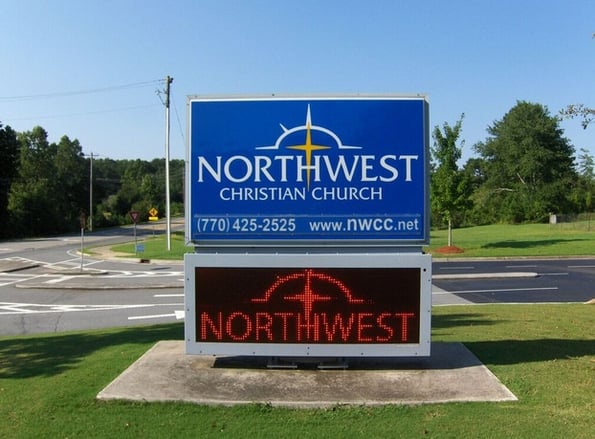 Previous logo on sign...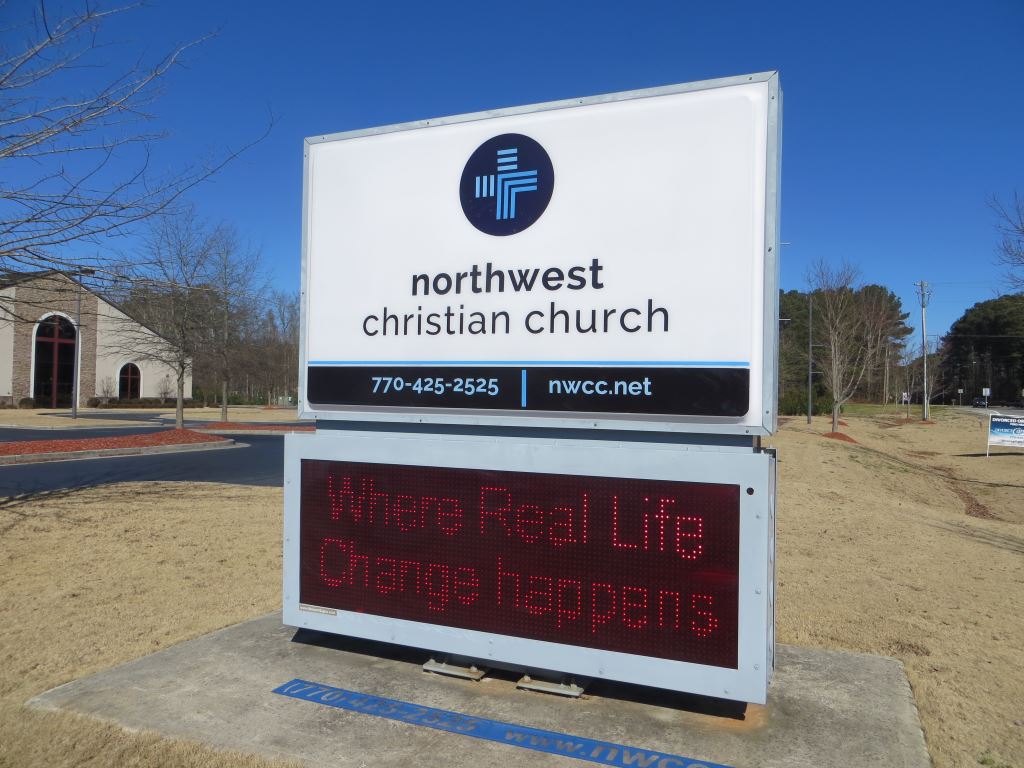 Incorporating a new logo into an existing sign!
The Northwest Christian Church changed its logo. Since its sign is already an example of excellent modern looks, we manufactured a new pan face portion for the existing box cabinet. It now shows off its new logo on the panel.
Other congregations have the opportunity to save money by having us replace the panels of light boxes on otherwise well-constructed monuments. Occasionally, refurbishing a sign with a new coat of paint, a replacement of peeling vinyl and a good cleaning can create an entirely new impression for passersby and present the same church with a much more modern look.
Discussing Signs for Churches in Cartersville, GA, with an Expert
Contact us today to learn more about our budget-friendly signage fixes, manufacturing methods and refurbishing processes. We work with you to create an appearance that expresses the mission of your church in a contemporary manner.